Fortnight

for

Freedom
The Fortnight for Freedom takes place from June 21—the vigil of the Feasts of St. John Fisher and St. Thomas More—to July 4, Independence Day.
Visit our
Fortnight Home Page
for more information!
http://www.usccb.org/issues-and-action/religious-liberty/
"We must promote religious liberty for all people. Every man and woman must be free to profess his or her faith, whatever it may be. Why? Because that man and that woman are children of God." - Pope Francis
Religious freedom has profound implications for the common good of our nation and world. The USCCB offers opportunities for you to take action and make your voice heard in support of religious freedom within our nation and throughout the world.
On the USCCB site you can also watch a short video on Religious Freedom:
Videos on Religious Freedom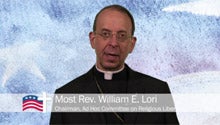 View videos on religious freedom from Archbishop William Lori and Bishop Ricardo Ramirez along with addresses given at the 2012 June General Assembly of Bishops by Archbishop Lori, John H. Garvey, Esq., Dr.Thomas F. Farr and the Most Reverend Shlemon Warduni.